PREMIUM HOUSE PAINTING SERVICES
Done with Inspiration, Teamwork, and Integrity
Welcome to Peach Painting, your trusted source for residential painting services in Tampa, FL. We are a professional painting company with a team of experienced painters who are dedicated to providing our customers with the highest quality painting services and customer satisfaction. Our in-house painting experts specialize in both interior and exterior painting and have experience with a wide range of painting techniques and styles.
Interior Painting Services
Interior painting can be a daunting task when trying to tackle the job yourself. There are so many things to consider – what type of paint to use, color choices, tools, prep, cleanup… With Peach Painting, you can relax and let us handle the job for you, ensuring a high-quality finish that you'll love for years to come.
Exterior Painting Services
We understand the importance of having a beautiful and well-maintained exterior, and our team is dedicated to delivering high-quality workmanship on every project we undertake. We use only the highest-quality paints and stains, and we are proud to offer a 100% satisfaction guarantee on all of our work.
Cabinet Painting Services
Repainting or refinishing cabinets is a cost-effective room improvement option without having to replace the cabinets entirely. It's a great way to improve a space if you're looking to make a complete change with a bold new color choice, or simply color match, repair, and revive your old existing cabinets.
Get a Free Quote & Consultation
We use only the highest quality paints and materials to ensure a long-lasting, beautiful finish that will transform your home and increase its value. We understand that every client has unique needs and preferences, which is why we offer a wide range of colors and finishes to choose from. Our color consultant will work with you to choose the perfect colors for your home and provide expert advice on the best type of paint and finish to use.
100% 5-Star Ratings!
What Our Customers Are Saying:
What a great experience! Professional, friendly, and did an excellent job! I have some new interior doors coming and Peach Painting is the company that I will call! Thank you, Russell and all of your painters for a job well done!
dharmesh patel
2022-12-09
Great group of people friendly very polite detail oriented loved the end result of my 2 story house
Erina Valcourt
2022-12-05
The team was on time, quiet and friendly. They fixed little things I noticed right away and had amazing customer service. Carlos was the lead and he was very adamant about making sure we were satisfied. Thank you guys!
Home Fast Funding Inc.
2022-11-23
Russell and his crew did an excellent job on painting our house. They arrived on time at the start of the project and went right to work with pressure washing and masking all of the areas such as windows and doors. They had the house primed and ready the first day. The entire crew was personable and very attentive to what they were doing. They were all very professional and they are all excellent craftspeople. We couldn't be happier with how the house turned out. I have had complete strangers stop in front of the house while I was out doing yardwprk to compliment on how good the house looks. Thank you Russell and Crew!
Peach Painting is highly recommended by me for any of your painting needs. Our house was the 4th one on our block to be painted by Russel. I chose them because of the excellent reviews received from my neighbors. They have experienced and professional crew that all work diligently to get the job done. Fair price quality work and quality sherwin williams paint Thanks Russel Peach painting met or exceeded my expectations. Job well done!
Stephanie Ouellette
2022-11-17
The crew were on time and professional. They were very understanding of our young kids and dog. All in all a great and quick experience. We will hire them again for future projects.
yvonne mariano
2022-10-27
The crew were very professional and pleasant with my family. They went above my expectations. Russell was great also but the crew was very good
Nighthawk_ Predator
2022-10-23
Russell and his team painted the exterior of our home and our shed. From first time meeting him I got the impression that he was very professional. His team was painting our neighbor's home so I approached him for more information. From the quote to the final walk through he was very transparent and his team worked very hard before and after the hurricane to complete the job. We received a quality paint job with a quality product and a 5 year warranty on workmanship to boot. He and the team are prompt, friendly and hard workers. I would call on them in the future for interior painting as well and recommend them to anyone who needs their home painted, inside or out. !!! Thanks Peach Painting!!!
Very responsive, engaging, accommodating, professional and courteous. Knowledge and work product were exceptional
We are happy to serve our community, and perform each project like it's for our neighbor… because it is!
Peach Painting Solutions is proud to be a local, family-owned and operated contractor. Our knowledgeable craftsmen will bring the necessary skills and tools to finish your project to your complete satisfaction.
We make it our priority to stay on schedule and maintain the utmost professionalism. Our staff is hired with our proprietary 7-step process that allows us to properly vet our employees. Furthermore, we care about our employees like they too are family. Skilled, happy, highly valued employees = wonderful outcomes for our customers!
Contact us today to get started improving your living spaces with the happiest painting crew around Tampa!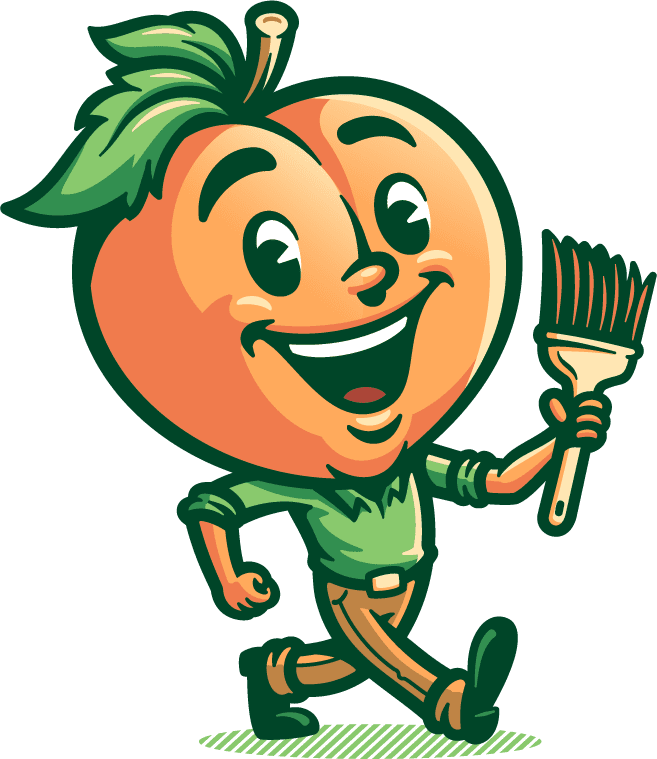 Why Choose Peach Painting as your PROFESSIONAL PAINT CONTRACTORS?
BEST WARRANTY Around
We pride ourselves on our level of detail for each and every project we complete and strive for perfection. We provide a 5 year workmanship warranty on all of our jobs.
Firm Mission Statement
To provide unparalleled service, coupled with integrity and the highest quality craftsmanship to help you transform your house into a home reflective of your taste and personality.
Fully Licensed & Insured
We're a fully licensed contractor and trusted in the industry to provide top-quality services. We're insured to protect your home or property from any job site accidents.
We Believe Prep Work = Success
Deliberate focus on preparation is what separates us from the rest, and this ensures expert-quality and long-lasting results for every job.
For professional painting services in Florida, contact the experts at Peach Painting today!