Bathtub Refinishing & Reglazing
The #1 Bathtub Refinishing Company in Valrico, Lithia, Fish Hawk, Brandon, Tampa, and Surrounding Areas
Get a No-obligation, Free Quote Today!
Experience a Stunning Bathroom Makeover with Cost-Effective Bathtub Refinishing Services
Are you tired of your chipped or outdated bathtub? If you're in Tampa, Brandon, Plant City, Riverview, Valrico, FL, or nearby areas, Peach Painting has the solution for you. We specialize in bathtub refinishing, also known as reglazing or resurfacing, to make your tub look and feel like new again.
Our process involves repairing any visible damage, such as chips or scratches, followed by thorough cleaning and sanding to prep the surface. We then apply a high-quality, durable coating that not only rejuvenates your bathtub but also adds an extra protective layer, extending its lifespan for years to come.
Our Bathtub Refinishing Services are perfect for:
Homeowners looking to improve their bathroom's appearance and increase property value
Landlords and property managers who want to enhance the appeal of their rental properties
Real estate professionals preparing a property for sale or open house
Hotel or motel owners seeking to refresh the look of their guest bathrooms
Homeowners with a damaged or worn bathtub who wish to avoid the expense and disruption of a full bathroom renovation
Individuals with a vintage or antique bathtub that they want to preserve and maintain
Apartment complex owners looking for a cost-effective way to refurbish and update their units
Anyone looking for an eco-friendly solution to prevent old bathtubs from ending up in landfills
Bathtub refinishing is your go-to option for a bathroom makeover without the headache of a full remodel. Ideal for homeowners, landlords, and real estate pros, our services are available in Seffner, Lakeland, Citrus Park, FL, and the surrounding areas. Whether you're prepping a property for the market, updating a rental, or just need a change at home, Peach Painting refinishing services deliver high impact for a fraction of the cost and time.
Skip the stress and price tag of a full bathroom overhaul. With bathtub refinishing, you can save up to 75% compared to a tub replacement, and you're also doing the planet a favor by keeping old tubs out of landfills. We're fully licensed and insured, with a long list of satisfied customers to vouch for us. We'll work closely with you to make sure the project is completed on schedule, within your budget, and to your utmost satisfaction.
Ready to take the next step? Contact Peach Painting today at (813) 670-8766 for your FREE estimate and consultation. Your dream bathroom is just a call away!
Enjoy a high-quality finish that Lasts!
Breathe new life into your tired, worn-out bathtub without breaking the bank or your daily routine. Serving Dover, Pasco County, Land O' Lakes, FL, and nearby areas, we specialize in transforming outdated or damaged bathtubs into rejuvenated masterpieces.
If your tub is losing its luster and showing signs like stains, chips, or scratches, don't stress about a full bathroom renovations. Bathtub refinishing offers a budget-friendly, quick fix that will have your bathroom looking like a million bucks.
Why Hire A Professional Local Bathtub Painter?
When your bathtub has seen better days but you're not up for a full-on bathroom remodel, Peach Painting has got you covered in Lithia, Thonotosassa, Wimauma, FL, and the surrounding areas. Our seasoned professionals are experts at bathtub refinishing, providing an eco-friendly and budget-friendly solution to make your tub look brand new.
Our team has the know-how and tools to get it right the first time, saving you both time and headaches. Sit back, relax, and look forward to a sparkling, high-quality bathtub finish that will last for years.
FAQS
Frequently Asked Questions about Bathtub Refinishing:
What is bathtub refinishing?
Bathtub refinishing, sometimes called tub reglazing or resurfacing, is a technique that breathes new life into your old or damaged bathtub. The process includes fixing any chips or cracks, prepping the surface, and applying a robust, top-notch coating, making your tub look brand new.
Ready for a tub transformation? Call us at (813) 670-8766 for a FREE estimate.
How long does bathtub refinishing take?
Peach Painting uses specially formulated paint and primer meant for bathtubs, ensuring your tub's new finish will stand the test of time. The entire process usually takes 4 to 6 hours, depending on the tub's size and condition. After the job's done, you'll need to wait at least 24 hours before taking that first soak.
Want to know more? Call us at (813) 670-8766 for a FREE estimate.
HOW LONG DOES BATHTUB REFINISHING LAST?
With the right care, a refinished bathtub can last 10 to 15 years, maybe even longer. The longevity of your refinished tub depends on the high-quality materials we use and the expert craftsmanship our team brings to every project. So you can trust that when you choose Peach Painting, you're investing in a long-lasting solution for your bathroom.
Can any bathtub be refinished?
Most bathtubs, regardless of their material—be it acrylic, fiberglass, porcelain, or cast iron—are excellent candidates for refinishing. To ensure your specific tub can benefit from our services, it's always a wise move to consult with seasoned professionals.
Our team at Peach Painting will thoroughly evaluate your bathtub to determine its suitability for refinishing, giving you tailored advice based on its condition and material. So don't hesitate to reach out to us at (813) 670-8766 for expert guidance.
IS IT BETTER TO BUY A NEW TUB OR REFINISH IT?
The decision between buying a new tub and refinishing your existing one depends on various factors, such as the current condition of your tub, your budget, and your renovation goals. Refinishing is often much more cost-effective and can save you up to 75% compared to the cost of a new tub. Plus, it's an eco-friendly option that prevents your old tub from ending up in a landfill.
If your bathtub is structurally sound but just needs a cosmetic lift, refinishing can transform it into a like-new condition in a much shorter timeframe than a complete replacement. For a personalized recommendation tailored to your specific needs, give Peach Painting a call at (813) 670-8766 for a FREE estimate.
Over 100 5-Star Reviews!
What Our Customers Are Saying:
Providing The Best Painting Services In Tampa, Fl
We believe in hard work and honesty to reach the best results. Our highly trained team of experts strives to outperform and over deliver on every front.
Request a Quote Online
Call Now: (813) 670-8766
Quality first
Why choose us
We believe in hard work and honesty to reach the best results. Our highly trained team of experts strive to outperform and over deliver on every front. Our keen attention to detail allows us to strive for perfection, and we never settle for anything less.
Get the precision and diligence that your project deserves by choosing our team of qualified contractors. We're standing by to learn how we can help your project, so call or fill out our contact form today.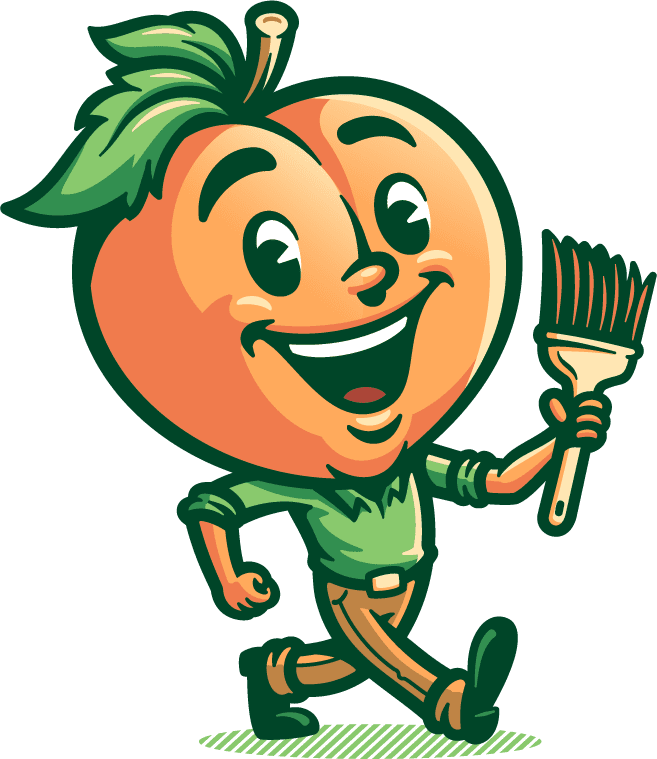 Specialized Painters for Every Job
Our expert painters, refinishers, and color consultants are artists and masters of their crafts. In addition, because we're based in Florida, we know how to deal with the unique challenges that painting in a tropical climate can present.
Fully Licensed & Insured
We're a fully licensed contractor and trusted in the industry to provide top-quality services. This includes being both PCA and EPA Certified. We're also insured to protect your home or property from any unlikely job site accidents.
Free Painting Quotes & Color Consultations
Our neighbors in Tampa and the surrounding areas can call or fill out our form for a free quote with zero obligations. Know your home is ready for a facelift but having a little trouble deciding on color combos or finishes? Our team of experienced painters can help you choose the right paint, color, and finishes for all your home painting project needs.
The Proof is in our Stellar Reputation
We are always grateful to receive all customer feedback. Especially when we hear about our skilled workmanship and superior service being appreciated and reccomended— and we're proud to maintain our high star ratings on Google and other review sites.
Tampa Bay's #1 Choice for Painting Companies!
Whether you need painting, refinishing, or resurfacing services in Valrico, Brandon, or anywhere else in the Tampa Bay area of Florida, Peach Painting is the company you can trust.
Our mission is to provide unparalleled customer service, coupled with integrity and the highest quality craftsmanship to help you transform your house into a home reflective of your taste and personality.
Transforming our neighbors' homes, one neighbor at a time, through inspiration, teamwork, and honesty.
Honesty • Integrity • Passion • Inspiration • Accountability
For The Best professional painting services in the Tampa Bay area, contact the experts at Peach Painting today!